1 Yellow Onion, Diced Small
1 Tablespoon Olive Oil
1 Pound Boar Shoulder Cut Into 1/2 – inch Cubes (Substitute Pork Shoulder)
1 Tablespoon Chili Powder
1 Tablespoon Ground Cumin
1 1/2 Tablespoons Paprika
1 Teaspoon Ground Cinnamon
1/2 cup Golden Raisins
1 cup Chicken Broth
1/2 Cup St. Francis Cabernet Sauvignon
Salt and Pepper to Taste
Preheat oven to 350 degrees. Using an oven-safe, heavy bottom pot, saute onions and olive oil over medium heat until onions are translucent.
Add wild boar cubes and cook until all the meat is slightly browned, stir in spices, salt and pepper, and raisins.
Continue to stir until the boar begins to caramelize the bottom of the pot. Pour in chicken stock and wine. Turn heat to high and bring the liquid to a boil.
Remove from heat, cover with lid or aluminum foil, and put in the oven. Cook for 45 to 90 minutes, until the meat, is tender and shreds in your fingers, and most of the liquid is cooked out.
Be sure to check often so as not to dry it out. Remove from pot, place into a heat-safe container, and cool in the refrigerator. Once cooled, pulse carefully in a food processor until just shredded.
Salt and pepper to taste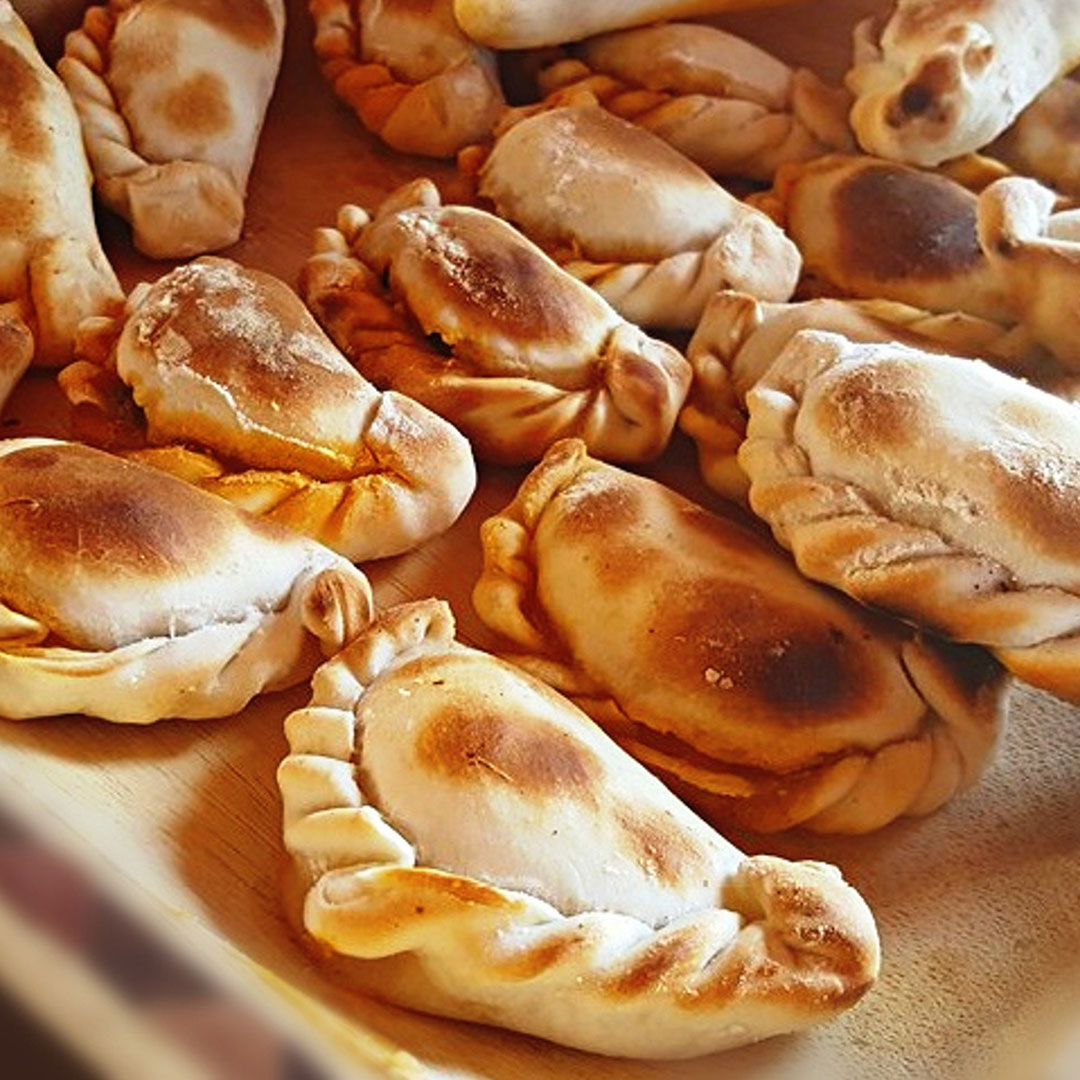 1 1/2 cups All-Purpose Flour
1 cup Masa Harina (Corn Tortilla Mix)
1 Teaspoon Baking Powder
1 Teaspoon Salt
1/2 cup (1 stick) Unsalted Butter, Melted and Cooled
1/2 cup plus 1 Tablespoon Water
2 Large Eggs
Butter 2 large baking sheets. Mix flour, Masa Harina, baking powder, and salt in a large bowl. Stir in melted butter.
Whisk water and 1 egg in a small bowl to blend. Add to flour mixture and knead in bowl until smooth, pliable dough forms ( about 2 minutes)
Working with half of the dough at a time. roll out on the floured surface to 1/8 – inch thickness
Using a 3 3/4 – inch diameter biscuit cutter, cut out rounds. Re-roll scraps and cut out additional rounds for a total of 12 rounds per dough half.
Whisk the remaining egg in a small bowl to blend. Place 1 tablespoon filling in the center of each dough round.
Lightly brush the edges with egg. Put boar filling in the center and fold the dough over, pressing edges with a fork to seal.
Place on a prepared baking sheet. (Can be made ahead to this point. Cover with plastic wrap and chill)
Preheat the oven to 375 degrees. Brush empanadas with beaten egg and bake for about 25 minutes or until light golden brown. Serve warm.