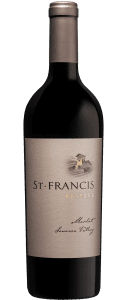 Full-bodied, rich, and velvety, the Reserve Merlot features toasty aromas of plum pudding, espresso, and black licorice. Flavors to follow are full of depth with notes of mocha, blackberry and baking chocolate emerging before the lengthy finish.
2015 brought an early and light harvest that began on August 10, the earliest date in St. Francis' history. The year started out very warm and dry but then cool, damp weather in May hampered fruit set. Though the result was smaller, looser clusters on the vine, the warm and consistent summer that followed produced high-quality fruit with exceptional aromatics and concentrated flavors.
The Reserve Merlot shows off the rich and flavorful fruit grown in the Wild Oak Estate Vineyard and Behler Estate Vineyard, both in Sonoma Valley. This picturesque valley is surrounded by the Sonoma Mountains to the west and the Mayacamas Mountains to the east, providing perfect conditions for Merlot grapes. For additional richness and length, Merlot from high atop Sonoma Mountain was blended in to complement our valley floor fruit. This area's warm summer days are cooled by evening breezes and fog from the Pacific Ocean, resulting in fruit with deep, complex flavors and aromas.
After hand-sorting, the grapes underwent a two-day cold soak to extract optimal color and flavor. The wine was then aged in 100% French oak barrels, 65% new, where it underwent malolactic fermentation, followed by 20 months of aging.
90% Zinfandel
10% Petite Sirah

Wine Experiences Currently Unavailable
For the well being of everyone and in accordance with the California Department of Public Health's Stay-Home Order, all wine experiences will be temporarily closed through January 9, 2021. 
Schedule Curbside Pickup

(707) 833-0242
Thank you for all of your support this year.
Have a safe and Happy Holiday!