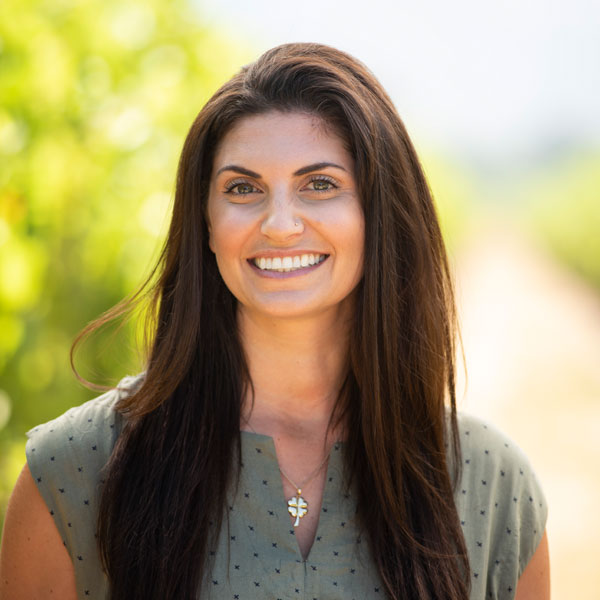 A key member of St. Francis Winery's production and winemaking team since 2002, Katie Madigan became a St. Francis Winemaker in 2011.
For Katie, winemaking is the perfect combination of science and creativity.  A chemistry major at UC Santa Barbara, she joined St. Francis as a harvest intern. After working long hours for four months, doing everything from lab work to vineyard visits, she was hooked. "I loved the fast pace and diversity of the job," she says. "I didn't want to leave at the end of every day."
Two years later, Katie became a full-time lab tech at St. Francis and began studying Enology & Viticulture at UC Davis. Promoted to Assistant Winemaker in 2006, she focused on Chardonnay production and championed night picking of all Chardonnay fruit to preserve flavors, aromas, and acid levels.
Katie's relentless pursuit to make wines that reflect the beauty and uniqueness in each vintage is what got her to where she is today. Her vision has always been to "produce self-expressing, balanced wines from a region known most for its diverse terroir."
As a St. Francis Winemaker, Katie continues St. Francis' long tradition of creating high-quality wines from Sonoma County grapes. She oversees production of St. Francis Winery's top-selling Zinfandels, Pinot Noirs and Chardonnays as well as many of our other popular white wines. In 2015, Katie was awarded "Best Woman Winemaker" by the International Women's Wine Competition. She also won Zinfandel Producer of the Year in 2014 and 2015 at the California Zinfandel Championship.