Greetings from Sonoma Valley:

Our fourth consecutive "September Harvest" began with this morning's arrival of 8 tons of hand-picked Sonoma Valley Chardonnay grapes at our inspection platform. To our specifications, the sweet (24° Brix), plump golden grapes were hand-picked and cold to the touch—a good start for crushing.
Once again, the sights and smells on our bustling Crush Pad are unmistakable: it is Harvest in Sonoma.
Our winemakers Heather and Katie and vineyard manager José agree that a warm 2012 growing season and our careful thinning of an abundant crop give early cause for optimism. We anticipate picking more Chardonnay in the days ahead, then Zinfandel by the end of next week.
The taste, color and aromas of this morning's Chardonnay remind us that Sonoma Valley has been called the 19th Century birthplace of California's wine industry, largely due to ideal grape growing conditions. Our 17-mile Valley is bordered by two mountain ranges: the Mayacamas Mountains to the east and the Sonoma Mountains to the west, both of which isolate the Valley and allow in just enough low lying coastal fog to cool our vineyards on summer evenings for steady, even ripening. Indeed, wines like our St. Francis Chardonnay, Merlot, and "Old Vines" Zinfandel—generally grown below the fog line, and our Cabernet Sauvignon—grown above the fog line, have oft been celebrated by both critics and winemakers as "uniquely Sonoma."
Again we find ourselves amid the vibrant pace of Harvest in Sonoma, and of vineyards and grapes and wines that will someday follow. It is on these nights that we dare to dream, with great passion, of what people we may never meet will say the moment they open their first bottle of 2012 St. Francis wine. And each of us at St. Francis will share in that moment, because even though we won't get to see them hold that glass and smile at what they taste, we know they will taste Sonoma.

Christopher Silva
President & CEO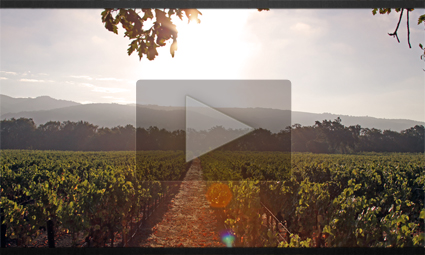 Watch this morning's harvest — 3 minute video.